Shopping Cart
Your Cart is Empty
There was an error with PayPal
Click here to try again
Thank you for your business!
You should be receiving an order confirmation from Paypal shortly.
Exit Shopping Cart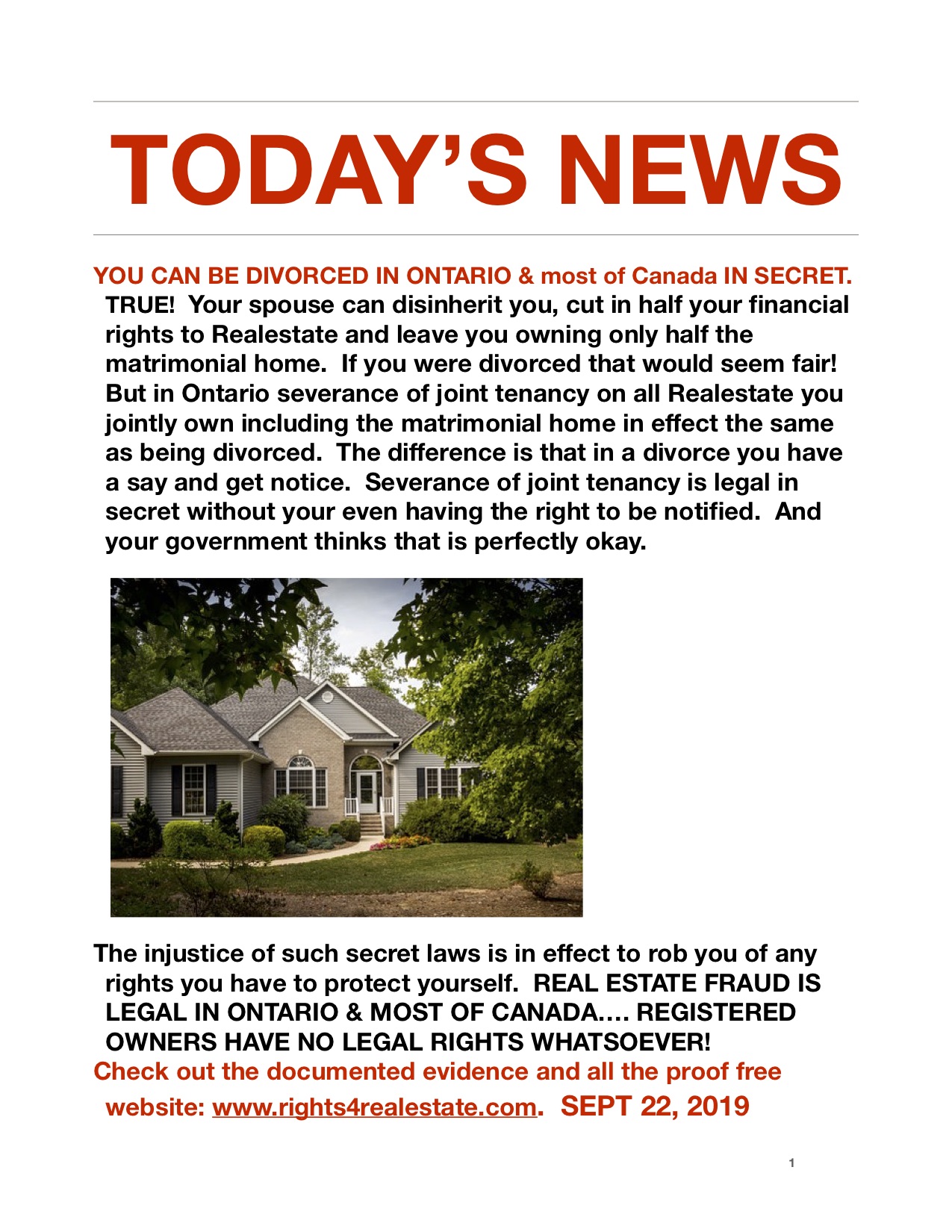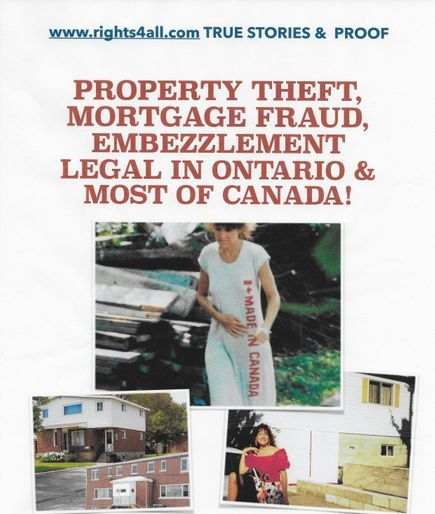 ALL DOCUMENTED EVIDENCE ON free website
www.rights4realestate.com 
JAN 21, 2017:  WHY IS PROPERTY THEFT NOT A CRIME IN CANADA?  Why indeed.  The simple answer is because Canadians themselves can't be bothered to fight back.  Because Canadians themselves think this can't happen to them, just to some one else.  Because Canadian lawyers are also so ignorant as to believe there are laws to protect property owners or just simply don't care.  In my case it was both.  My mother 97 was robbed of
her matrimonial home, and all property rights including its' income - yet I was helpless floundering like a beach whale for 15 years begging for help and NEVER GOT IT!  Not until a lawyer from Newfoundland, Lynne Butler, 2 years ago took pity on me and began helping me research ONTARIO LAWS.  After a tortorous journey I recently now have all the evidence that our Canadian government allows our provinces to make laws that contribute to crime and make it easy for any thief to steal your home, properties and do whatever they feel like doing..  Trent Falldien my current lawyer is still reeling from shock at just how bad the situation is in Canada but worse in Ontario.  Steal someone's tv and the police will charge the culprit with theft. Steal a 97 year old woman's home and properties and you face paying $50,000.00 cash, years in civil court, losses in excess of hundreds of thousands of dollars on your property(ies) and you still won't get either your money or properties back.  WELCOME TO MY WORLD.  TRUDI TRAHAN-UPCHAN, POLITICAL ACTIVIST - RIGHTS4ALL.
JAN 10, 2017;  ONTARIO LAWS MAKE IT LEGAL TO SEVERE JOINT TENANCY IN SECRET & TO ALLOW ANYONE WHETHER LEGALLY ENTITLED OR NOT TO PUT THEIR NAME ON YOUR PROPERIES INCLUDING MATRIMONIAL HOME IN SECRET WITHOUT ANY NOTIFICATION TO LEGAL OWNERS, SPOUSES ETC.  THIS IS AN ABUSIVE VIOLATION OF HUMAN RIGHTS & SHOULD BE BANNED.
1994:  New South Wales banned filling in secret & cited that it is not legal in either Manitoba or Alberta.  BC put forward a report to ban secret filing in 2012 but I cannot find any evidence that they did.  I could find nothing on any other province in Canada.  I think the government of Canada & Prime Minister should make it a federal laws that no filing on any property, joint or otherwsie can be done in secret. This secret filing is an abuse of human rights, and promotes crimes by criminals to steal people's properties.
I have fought this for 15 years and still no one in our government gives a damn that tens of thousands of seniors are losing their homes, spouses like mom 97 lost her home and all her property rights as my brother used the legal secret filing to rob her of everything.  And yet still, Canadian government ignores it completely so that seniors if they have any money at all wind up in civil court which deplets their financial resources and still they lose their home.  Filing in secret and putting anyone's name to steal someones property in secret should not be CIVIL BUT A CRIMINAL OFFENSE!  Why would any government want a law that makes it legal for criminal property theft?  If you steal someone's TV it is theft.  So when you seal someone's property it should be theft!  WELCOME TO MY WORLD.  TRUDI TRAHAN-UPCHAN, POLITICAL ACTIVIST - RIGHTS4ALL.
0

/